Go Back
Food For… Cock. Yep, you read that.
category: Blog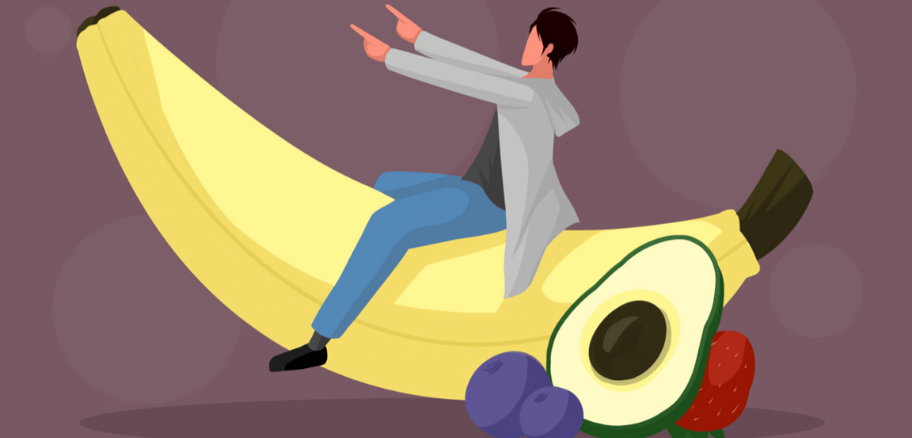 There's no arguing that a healthy diet is beneficial for your overall health. While it's true you are more likely to experience ED with age, it is not age itself that is the culprit. When it comes to erections it's all about the blood flow. Diseases and conditions like high blood pressure, type 2 diabetes and heart disease can wreak havoc on your vascular system directly effecting the quality of your erections. What you eat can directly prevent common health conditions and keep your BFF down there happy and healthy.
The star of the show: Nitric Oxide
If you missed our post on this miracle molecule, be sure to read up! Nitric Oxide (NO) is a critical molecule for the health of your penis. NO dilates blood vessels which in turn can increase blood flow to the penis. The key to getting and maintaining erections revolves around continuous activation of NO. Our bodies make NO on their own, but as we age, natural production decreases. In short, if there's no NO, you lose your "pump." There are a few ways to get your NO levels up (supplementation, exercise, etc.) and in this post we'll be focusing on the dietary approach. Why? Because whole foods will provide more nitrates than your body can naturally produce on its own.
Eat your phytonutrients!!
Phytonutrients are chemical compounds produced by plants and have been researched in relation to NO. Flavonoids, a category of phytonutrients, can increase production of NO or keep NO from being destroyed in addition to:
Improving blood vessel health
Protecting blood vessels from damage due to consuming high-fat meals
Preventing toxic cell-damaging chemicals from forming
Lowering blood pressure in people with high blood pressure (high blood pressure directly effects the penis muscle necessary to stretch out and expand with blood)
5 Colors of Phytonutrients
| | | |
| --- | --- | --- |
| Color | Benefits | Sources |
| Red | Supports prostate, urinary tract and DNA health. Protects against cancer and heart disease. | Pomegranate, cherry, tomato, raspberry, beets |
| Purple | Good for heart, brain, bone, arteries, and cognitive health. Fights cancer and supports healthy aging. | Plum, blackberry, grapes, blueberry |
| Green | Supports eye health, arterial function, lung health, liver function and cell health. Helps wound healing and gum health. | Lettuce, broccoli, avocado, celery, brussels sprouts |
| White | Supports healthy bones, circulatory systems, and arterial function. Fights heart disease and cancer. | Mushroom, cauliflower, garlic |
| Yellow | Good for eye health, healthy immune function and healthy growth and development. | Carrot, sweet potato, lemon, papaya |
Wondering which foods are best for obtaining the above? While it's near impossible to pinpoint exactly which foods are benefitting you alone or in combination, it's safe to say that the best approach is to eat as wide a variety of vegetables as possible. A good rule of thumb is aiming to make your plate extra colorful to obtain a diverse array of phytonutrients. Eat the rainbow! The best known sources for nitrates are vegetables such as beets, lettuce, arugula and spinach, but there are many others that are great sources.
Chew s-l-o-w-l-y
Most of us are shoveling down our meals and snacks subconsciously without any thought to it. But did you know that not taking the time to chew your food at a reasonable pace is doing you a disservice? Not only will this help with signaling fullness, it also enhances salivary flow. Saliva contains a high concentration of nitrate, which is then broken down into nitrite and eventually gets broken down in our gut into NO! In short, the food we eat interacts with our saliva to produce NO but not taking the time to chew your food and activate via your saliva, you could be missing out on some of the interaction.
Stay away…..
On the contrary to consuming food for penis health benefit, choosing to eat foods that do harm is directly detrimental. Processed carbohydrates (AKA sugar) are bad. No way around it! Too much sugar leads to your body storing it as extra fat, which causes inflammation and in turn, releases toxins that also interfere with your NO production! Over time:
Prediabetes -> diabetes -> high blood pressure, clogged arteries, heart disease and/or stroke
And you guessed it, somewhere in the decline in metabolic, your erections are guaranteed to be affected negatively. Most of us aren't consuming sugar cubes every hour, so how is it possible for people to identify what they're eating as dangerous if sugar hides in other forms? Most breads, rolls, pastas, baked goods, cereals and breakfast bars are made of white flour and our bodies turn those processed carbs into sugar, so it is best to avoid foods containing processed ingredients. Of course, the more obvious foods to steer clear of are sweetened foods and drinks like sodas, coffee, ice cream and other desserts. If it comes in a box, bag or package, read your labels; food companies are SNEAKY! Sugar has many alias' dextrose, corn syrup, maltose, malt syrup, and fruit nectar to name a few. Stick to the outside edges of the grocery store where produce sits – they don't have food labels for a reason! Rule of thumb, the less ingredients and closest to it's natural form, the better. Stick to your plant-based foods as much as possible: vegetables, fruits, nuts, legumes and grains.
"The produce section is like nature's pharmacy." -Aaron Spitz, M.D
Getting down to brass tacks, it's unrealistic for humans to abide by these suggestions all the time. Rather than being discouraged from eating processed foods we as humans enjoy, minimizing the frequency or quantity is an excellent start. Research shows that adding more plant-based is not only a good offense for your body, but it actually plays defense for you when you decide to eat something that is not directly healthy for your penis. This protective effect leads to less toxins released into your blood vessels and tissues. So even if you don't change a thing about what you're eating and start adding in plant-based food to your current diet, you're getting benefits! The end goal from this approach would be to eventually cut out processed foods and only indulge occasionally. Luckily for those with a sweet tooth, dark chocolate is a flavonoid-rich food – woot woot!
In conclusion, your best bet to beat ED from a dietary standpoint is to consume a healthy diet that is good for your heart and blood circulation. If you take care of your vascular health, you're more likely to maintain sexual performance by avoiding common chances of developing ED.
*mic drop*
References
Spitz, Aaron, MD. "Put it in your mouth: How grub affects your nub." The Penis Book, 159-171.
https://moreforce.com/food-for-erectile-dysfunction/#the-best-food-for-erectile-dysfunction